Great Motorcycle Rides in the Estes Park Area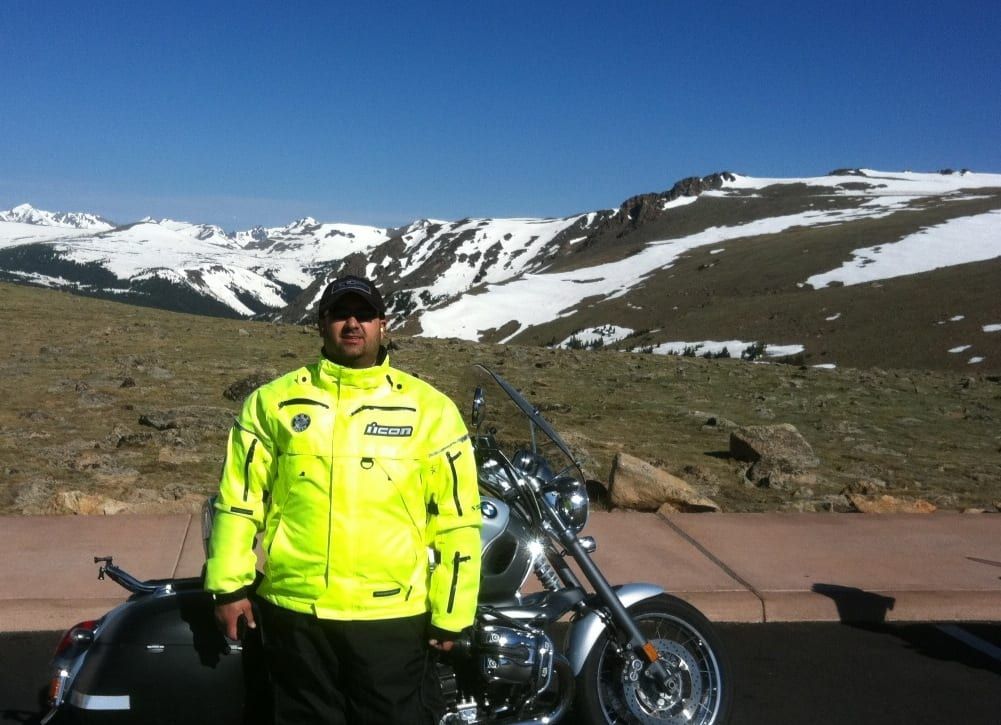 When winter comes I find myself wishing that I had gone on more motorcycle trips when the weather was warmer. Estes Park has some of the best roads for riding a motorcycle I have ever been on. Better than the Texas hill country in my opinion. You really can't go wrong here if you like twisty roads with great views! Riding in any direction from town will give you a great ride! Here are some of my favorite roads in the area.
Highway 34 from Estes Park to Loveland (20 miles one way) This is a great winding road that follows the Big Thompson River and enters Big Thompson Canyon near the end. Watch out for the Big Horn Sheep that can be seen near the road in the Canyon. Along the way I like to look for the cabins and vintage lodges that dot this route. Before the Canyon I sometimes stop at the Colorado Cherry Company store and fill my saddlebags with jams and other fruit treats!
Estes Park to Grand Lake via Trail Ridge Road. (46 miles one way) Trail Ridge Road connects Estes Park to Grand Lake through Rocky Mountain National Park by going over the continental divide. There is so much to do and see along this route that It would take pages to talk about it all. This seasonal road usually opens by Memorial weekend depending on how much snow has to be cleared and will often be closed in late October. It can easily take half of a day to ride from Estes to Grand Lake and back so I usually plan to eat lunch at one of the many good restaurants in Grand Lake. The views are awe-inspiring on this road! There are many areas to pull out enjoy the views and get some pictures. It is common to see large Elk herds grazing on the open tundra hillsides. The Alpine Center is located just as you start to go down the west side of the divide. It's a great place to stop for a break and check out the large gift store inside. After many more twists and turns you will take a left turn to enter the town of Grand Lake. Eat lunch and enjoy the views of the lake! Then it's time to turn around and do the whole epic trip in reverse to go back to Estes. Be sure to pack rain gear as afternoon showers are very possible on this route.
Estes Park to Glenhaven Loop (16 miles one way) Be warned this road has two sets of tight Switchbacks as you near the town of Glen Haven. From Estes Park turn North from Highway 34 to MacGregor Ave. Follow MacGregor Ave as it turns right and you are now on Devils Gultch Rd. Stay left on County road 43 to go to Glen Haven and eventually Drake. County Road 43 is known as a favorite among Motorcycle riders for good reason. It offers some twisty switchbacks and many, many turns along the way. This road actually used to be even twistier -weaving through the trees in areas. A recent flood damaged the road and when rebuilt it was straightened out a little. I like to ride to Drake and then head back up to Estes Park on Highway 34 to make it a loop.
Estes Park to Stove Prairie Landing- I saved the best for last! (48 miles one way) This is my personal favorite motorcycle trip right now. From Estes head East on Highway 34. On the outskirts of Loveland turn left on North Colorado Road #27 (also know as Buckhorn Road). This is right after the Big Thompson Elementary school. Follow Buckhorn road to Masonville and turn left at the stop sign and follow the road all the way to highway 14. Buckhorn Road starts off normal enough with typical housing subdivisions you would expect to see near a town. As the road progresses it gets twistier and offers more gradual hills. You will ride past picturesque farms that look like they could be unchanged since the 1940s. Eventually the road gets very entertaining as you cross cattle guards and a few of the hills have blind turns at the crest that will leave your heart beating faster for sure! This road alternates between twisty areas and wide open valleys. You can still see evidence of the High Park fire that burned in 2012. Once you reach highway 14 and you need gas you can turn right and it will lead you to a Gas station on the edge of Fort Collins. This route also has a cool rock tunnel you drive through!